The New Way Forward Plan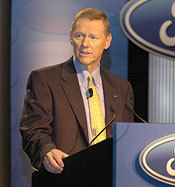 Ford announced its new Way Forward Plan 2.0 which is also called the Accelerated Way Forward plan. Will this involve more job cuts and more sales for the company's luxury car models?

The Detroit Free Press informs that the brands under Ford will survive this storm. Aston Martin will continue to be on sale. The company's other eight brands would not be experiencing sudden death which happened to General Motors' Oldsmobile.

Ford was accused of being too emotional for keeping the Mercury brand. Many car companies are pointing out that Ford should get rid of Mercury. Keeping the brand alive, they say, is an obvious expense. The funds are better spent elsewhere rather than on Mercury.